Truck Specialties, LLC
1303 N. 56th
Clear Lake
,
IA
50428
Local: 641-357-7300
Fax: 641-357-7875
Email: marketing@trksp.com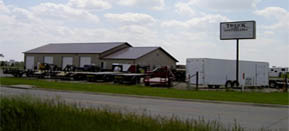 Truck Specialties is your 1-Stop Shop for Parts, Accessories & Service for Light-Duty to Heavy-Duty Trucks.
We carry XL Specialized, Sure-Trac and B&B Trailers; Sno-Way Plows & Spreaders, as well as Outlaw Brand Heavy-Duty Truck Parts.
Our Expanded Service Department can perform repairs and installations on all Trucks from Half-Ton thru Class 8, Trailers & Power Equipment.